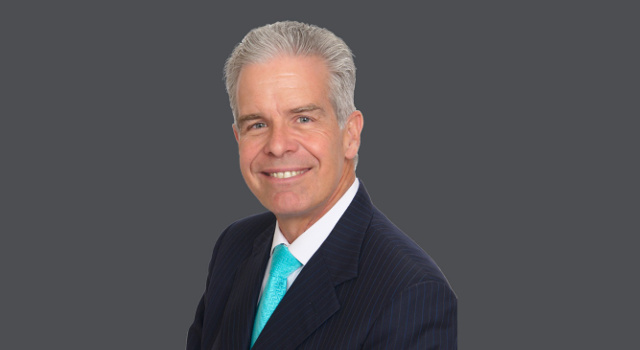 WHO HE IS: Executive Vice President for WFG Agency Operations – Eastern Division
WHAT HE DOES: Newly appointed to this position (he was previously senior vice president, overseeing agency matters in Florida, New York and New Jersey), Gene is now responsible for agency operations on the East Coast. "I'll be working closely with regional managers, underwriters and the sales team to grow WFG's business. And the growth potential is huge," he adds.
ABOUT GENE: He grew up in Buffalo, NY and began his professional career there in the commercial lending division of a large national bank, where he worked for almost a decade. That career path was interrupted when a title insurance executive he met while playing racquetball offered him a job. Having gone "as far as I could go" at the bank without relocating, which he didn't want to do, Gene accepted the offer, despite being, by his own admission, "clueless" about the title industry.
His education began in the examination division, doing title searches and learning how the examination and underwriting process worked. "It was the best possible place for me to start," he says. He managed production, sales and underwriting for this company for about 9 years. When a larger company acquired this one, Gene accepted a transfer to Florida. He was still in Florida 14 years later, working for a different title company, when WFG arrived on the scene, offering him a position with what was then a start-up venture. It was "an opportunity to be part of a team that would take a company from ground zero to where we knew it could go," Gene says. And he didn't hesitate. "Now, I have a chance to do the same thing for WFG's Eastern Division – and I'm very excited about it."
WHAT HE LIKES ABOUT HIS WORK: "I love working with people – mentoring and coaching them – and creating a team environment that allows them to use the skills they have and build on their strengths." He focuses on strengths rather than weaknesses, because "it's hard to improve weaknesses. But if you identify peoples' strengths and concentrate on what they are good at, you can take them up a notch."
WHAT HE DOES IN HIS SPARE TIME: Gene has two passions: Mission work and marathons. For the past seven years, he and his wife have travelled to Peru twice a year, working with a team constructing shelter for residents. Conditions are primitive, to say the least. "They get around on horse and buggy," he says. "There's no electricity or indoor plumbing – it's really hard to believe until you see it." He finds the work gratifying on several levels. "It's a chance to give back to others, but it also stretches you as a person – it forces you to get out of your comfort zone, and it makes you appreciate what you have."
Running is also an important part of his life. He competes in marathons and half-marathons, for which he trains early (very early) in the morning, usually starting around 4:30 a.m. His goal is to run five marathons in this calendar year ─ and he's already run two of them.
THE BEST ADVICE HE EVER GOT: Came from his uncle, an airport manager, who told him: 'The most important person in any company is the maintenance worker, because he makes sure that everyone else is able to do their work.' "What I learned from him," Gene says, "is that everyone in a company is valuable. A senior manager is no more important than a receptionist, and that's how you have to treat them. People aren't interested in what you know; they want to know you care about them and value what they do. If you don't convey that message to the people who work for you, there's no way you can succeed as a manager. All your knowledge, all your training, and all your expertise won't help you."
THE ADVICE HE'D GIVE TO OTHERS: It is two-pronged. First: "Make sure your priorities are straight. Your family and your health come first; work comes after. If the first two elements aren't in place, the third won't be there either."
Second: "Yesterday ended last night." Gene doesn't remember the source of the quote, but he believes few messages are more valuable. "Don't focus on your failures – learn from them, but let them go. Don't dwell on your successes either. They also happened yesterday. Focusing on them will prevent the growth that will make you successful tomorrow."