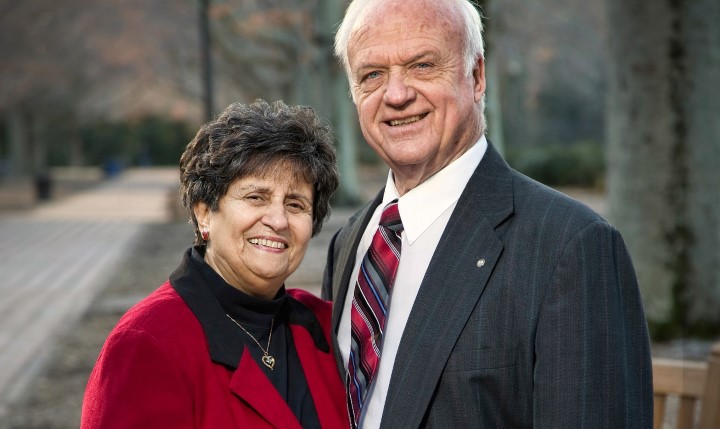 WHO SHE IS: Agency Sales Consultant for the Southeast Region
WHAT SHE DOES: Responsible for recruiting and supporting agents in the region.
ABOUT BEA: If there is a 'Grande Dame' in the title industry, it would have to be Bea Sykes. Mentioning her name to almost any title professional in Virginia will draw a broad smile, followed immediately by a tale of what she did to help them – last week or 25 years ago.
A Virginia native, Bea grew up in Richmond and went to school at Virginia Commonwealth University, where she took paralegal courses. Her brothers, both attorneys assumed, as did she, that she would go to law school. But when marriage and children intervened, she went to work for an attorney friend of her brothers, who was himself working for a title company, and who trained her to do title searches.
In Richmond 40 years ago, she recalls, only attorneys did title searches and it was an all-male enclave. There weren't many women attorneys at the time, and none were doing title searches. Bea crashed through both barriers. She wasn't welcomed at first – far from it. "Most of the attorneys didn't like me at all. But they grew to love me when they realized that I could do their title work for them."
She did title searches happily for about seven years, until someone rear-ended her car, injuring her back. No longer able to lift the heavy books in which titles were recorded (this was before they had been computerized), she became plant manager for the title company. Seven years later, a large national title firm, seeking to establish a presence in Richmond, recruited her to manage the office they were opening. She remained there for about five years, when another title firm decided to tap her increasingly obvious ability to recruit and retain quality agents. A decade later, the firm she had left previously persuaded her to return for what turned out to be another 14-year stint there.
WFG recruited her a few months ago to do what she has done successfully for other title companies – build a strong network of agents.
How does she explain her decades-long attachment to the title industry? "I think it just gets in your blood." Apparently so. Two daughters are underwriters for different title companies, and Bea, herself is every bit as excited about her work today as she was when she did her first title search more than 40 years ago, surrounded by men who "didn't think women could do that work."
WHAT SHE LIKES MOST ABOUT THE TITLE INDUSTRY: "It's not repetitious. The work is always different. And I like to keep moving. I don't like to be bored."
HOW THE INDUSTRY HAS CHANGED: "It's more formal now, and I guess it has to be. We used to do everything on a handshake, but not anymore. Because the business is more complex and because there have been so many defalcations, there's a lot more scrutiny than there used to be; it takes longer to get agents approved. I know my agents – I've worked with them for a long time, so I know their reputation and I know their skills, but I still have to prove that all over again.
WHAT SHE FINDS MOST SATISFYING: "The wonderful people I've dealt with and the friendships I've made with agents through the years — the respect I've had for them and the respect they've had for me. Just knowing I've helped them solve tough problems and helped them get through tough situations. Making sure my agents are happy – that's what gives me the most satisfaction."
WHAT PEOPLE WOULD BE SURPRISED TO LEARN ABOUT HER: "My agents know this, but others probably don't know that I dress up in a costume every Halloween and go trick-or-treating at my agents' offices. I pick a different costume every year. I was Bat Girl last year. I've also been a pirate, a witch, and one year, I was a motorcycle guy, with a leather jacket and a helmet ― the works. But I didn't ride a motorcycle."
WHAT SHE DOES WHEN SHE'S NOT WORKING: "You'll find me on a beach. I love the water. And I love being with my family (three children and five grandchildren)."
THE BEST ADIVCE SHE EVER GOT: Came from the first attorney for whom she worked. "It wasn't anything he said, it was the example he set. He demonstrated the importance of teaching the people who work for you and treating them well. That made a big impression on me, and I've tried to emulate it wherever I've gone."
THE ADVICE SHE WOULD GIVE OTHERS: "You have to be patient and you have to make sure you understand the new laws and the new rules. There are a lot of changes coming in our industry and you have to be prepared for them, so you can advise your agents and lead them in the right direction. "