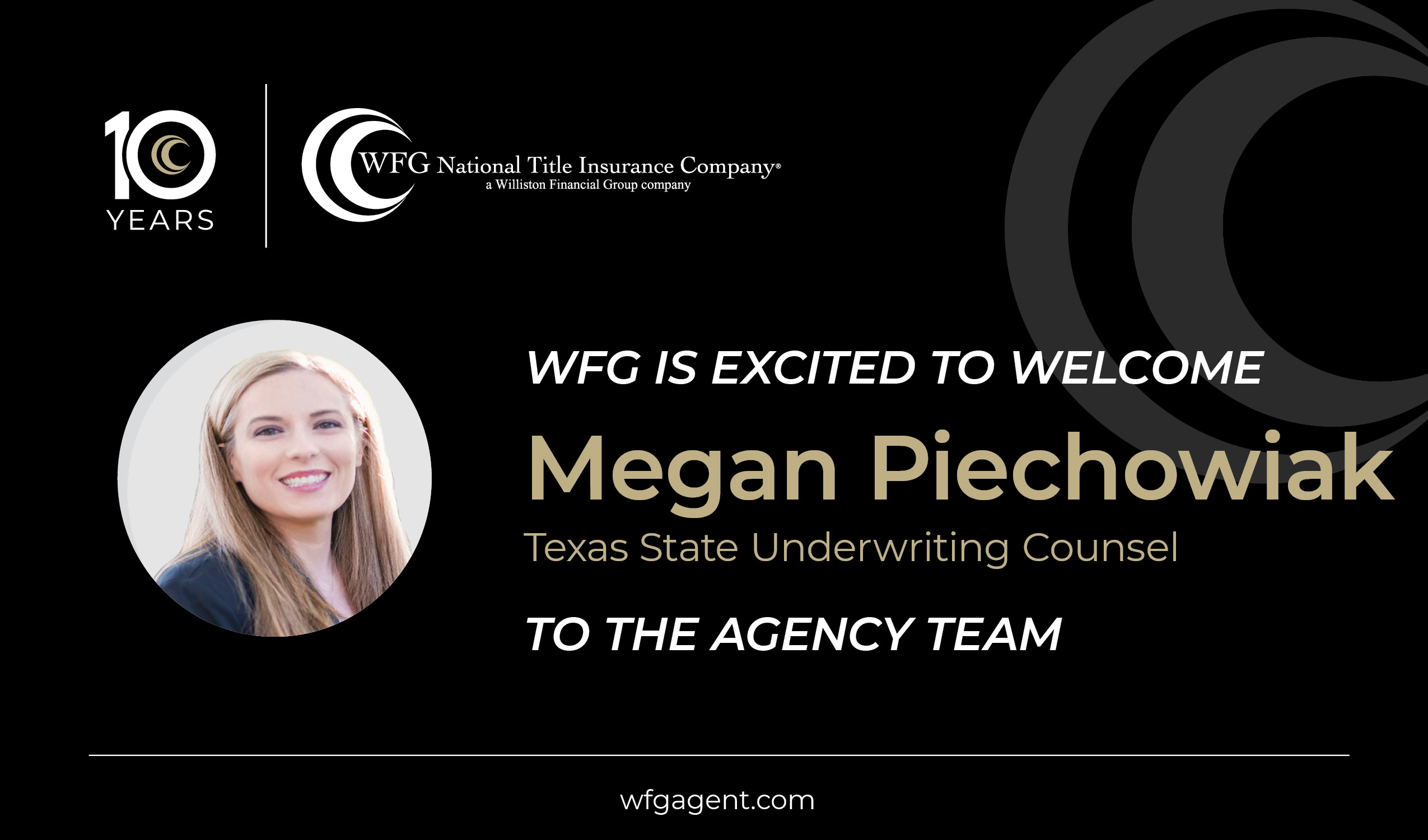 Portland, Ore., AUGUST 11, 2020 – WFG National Title Insurance Company (WFG), a Portland-based, full-service provider of title insurance and real estate settlement services for commercial and residential transactions nationwide, has announced that Megan Piechowiak has joined the company as Texas State Underwriting Counsel.
Her addition to the WFG team adds another dimension to the company's structural capability to handle large and complex commercial and agricultural projects.
WFG Director of Underwriting Services Alan Fields said, "Megan brings a unique set of experiences to WFG in having personally conducted many 'deep dive' examinations of large tracts for mineral interests."
Piechowiak has spent most of the past decade in the oil and gas and real estate industries. She did land work and worked as an oil and gas title attorney in multiple states, including Texas, Pennsylvania and West Virginia after earning her Juris Doctor from Texas A&M University's Texas Wesleyan School of Law in Fort Worth. In 2015 she opened a Fee Office, and as a fee attorney handled hundreds of closings across Texas. Many of the closings involved complex title issues and curative work. By working as a marketer and conducting remote closings she immersed herself in the industry, while developing superior customer relations skills.
Since 2017 she has also worked in real estate as an independent agent with Fathom Realty in McKinney Texas. Prior to that, she was a partner with Gongloff | Piechowiak Law in the Dallas/Fort Worth area and as an Associate Title Attorney for Judd and Jacks in Fort Worth.
"My experience in the real estate industry has taught me that getting to the closing table is a unique journey for every buyer and seller, and that teamwork is the most important part of the process," she said. "I am excited to embark on my next title adventure and could not be happier than to be doing it with WFG, a forward-thinking company that I know will make positive changes in our industry."
Piechowiak received her undergraduate degree from the University at Buffalo, New York. While in law school, she interned for the Honorable D. Michael Lynn, at the United States Bankruptcy Court for the Northern District of Texas and at the Tarrant County District Attorney's Office Protective Order Unit.