2019 WFG Basically Title Webinar Series Presents | Title Ramifications of Divorce
January 16, 2019 @ 1:00 pm

-

1:30 pm

Free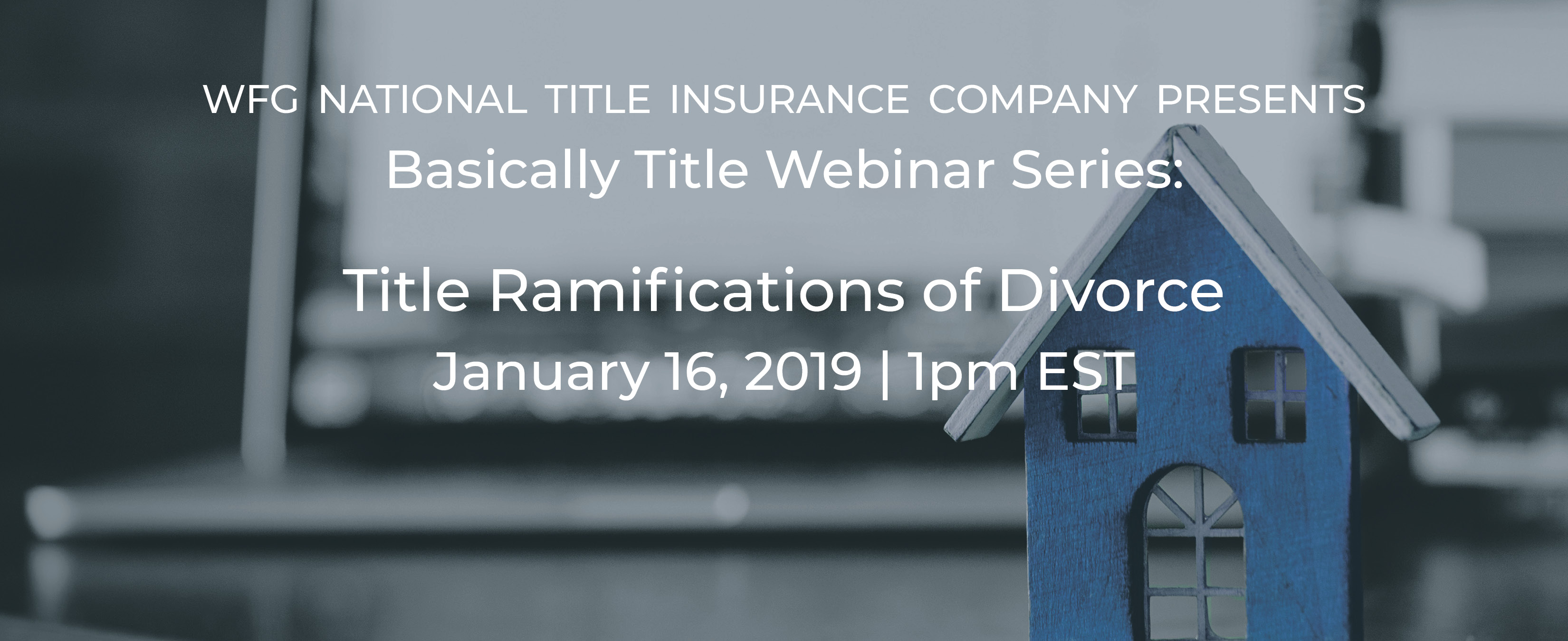 Please join us for the 2019 WFG Basically Title webinar series,Title Ramifications of Divorce, presented by Lisa Vesperman Still, Esq., MA State Counsel and New England Underwriter.



It might be said that the purpose of divorce is to redefine the relationship between spouses and their family members. Divorce is also the avenue through which ownership rights of spouses are altered. With few exceptions, divorce will affect the way in which title to real property is held. What are the key title underwriting issues that need to be focused upon in the context of a transaction if spouses are no longer married?
Join us as Basically Title begins a new year with an essential underwriting webinar, "Title Ramifications of Divorce". Through this webinar, you will learn:
 How divorce affects the status of judgment liens.
 Do the terms of a divorce decree serve to change the way title to real property is vested?
Is a support obligation arising through divorce a lien that needs be be paid at closing?

Lisa Vesperman Still, Esq. is the Massachusetts State Counsel and New England Underwriting Counsel for WFG National Title Insurance Company.  Lisa's passion is helping title agents, brokers and lenders, by sharing her knowledge through speaking engagements, seminars and discussions designed to facilitate continuing education on all matters of title insurance underwriting, title standards and real estate and settlement best practices.Lisa serves on the Board of Directors of the New England Land Title Association, is an active member of the Real Estate Bar Association of Massachusetts (REBA) and belongs to the American Land Title Association and the Barnstable Bar Association. She also makes it a priority to be involved in the Cape Cod community, serving in volunteer roles and leadership capacities on the Lower Cape, including Grievance Officer for the Orleans and Brewster Housing Authorities, Board Member of the Community Development Partnership, Board member and President of Nauset Youth Alliance, and most recently as a member of the Board of Directors for the Nauset Warrior Booster Club.Lisa lives in Brewster, Massachusetts, "the bicep of the Cape", as she calls it, with her partner Steven, her two children – linebacker, lacrosse goalie and soon-to-be high school graduate, Ethan and 8th grade field hockey star and flutist, Savannah, and their ball-chasing, high-flying, quirky rescue dog Jagger.
Did you miss the presentation, or want a recap? Click HERE to download the slide deck – Click HERE to watch the webinar playback.