Florida CE/CLE Webinar: 2022 Law Update: Legislation, Cases, and Other Matters Affecting Title and Title Insurance
November 15, 2022 @ 10:00 am

-

11:00 am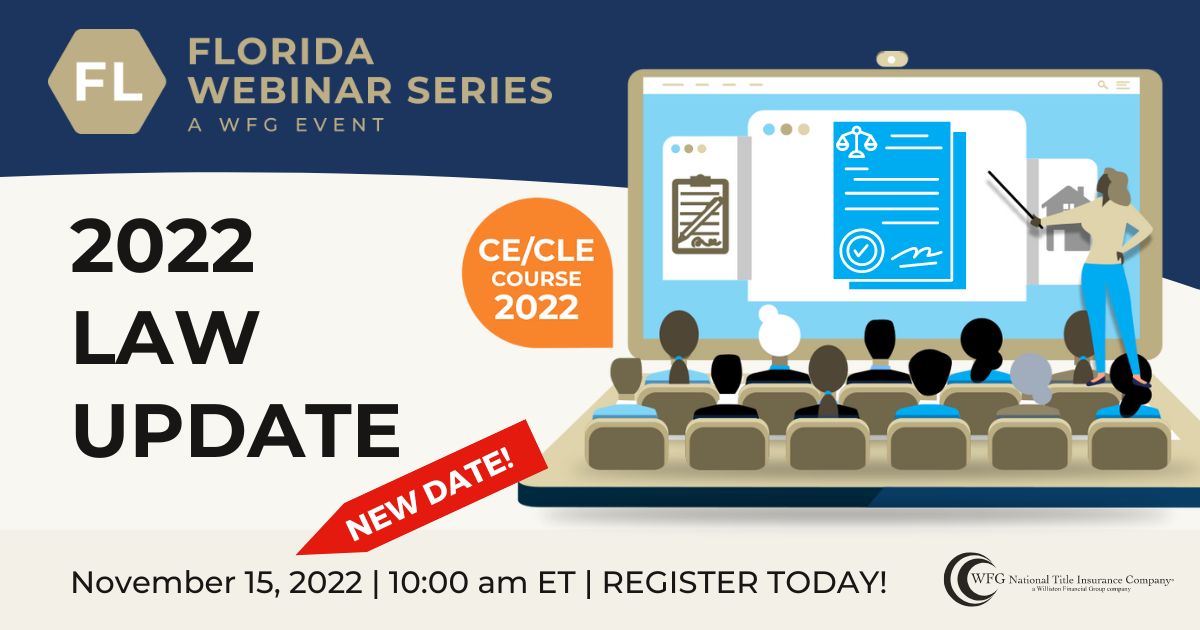 Are you current on the latest Florida laws affecting the title industry?  
Do you feel confident in how the laws may affect your business?
Join us on November 15, 2022, at 10:00 am ET, for 2022 Law Update: Legislation, Cases, and Other Matters Affecting Title and Title Insurance, presented by Joe Tschida, VP & State Counsel.
During this webinar, Joe will review and explain bills passed by the Florida Legislature in 2022 and their impact on title, title insurance, and real property transactions.  He will also discuss 40-Year covenants and their effect on future sales; he will examine new cases and their influence on real property transactions.
By attending this course, you can expect to learn about:
Changes to the Marketable Record Title Act.
Condominium Inspections and Reserves.
Fannie Mae's Acceptance of Attorney Opinion Letters.
Important highlights from the new 2021 Policies.
And more!
This course has been approved by the Florida Department of Financial Services for one hour of CE credit; and CLE approval has been obtained from the Florida Bar for one hour of General credit, one certification credit for Condominium and Development Law, and one certification credit for Real Estate.
DFS Course ID: 123695
DFS Course Offering ID: 1170917
Florida Bar No: 2209111N
DFS Approval: 1 Hr. CE Credit
Florida Bar Approval:
     1 Hr. General CLE
     1 Hr. Certification Credit for Condominium and Planned Development Law
     1 Hr. Certification Credit for Real Estate