New England Webinar: Intro to ALTA 2021 Forms – Part 2
June 2, 2022 @ 12:30 pm

-

1:30 pm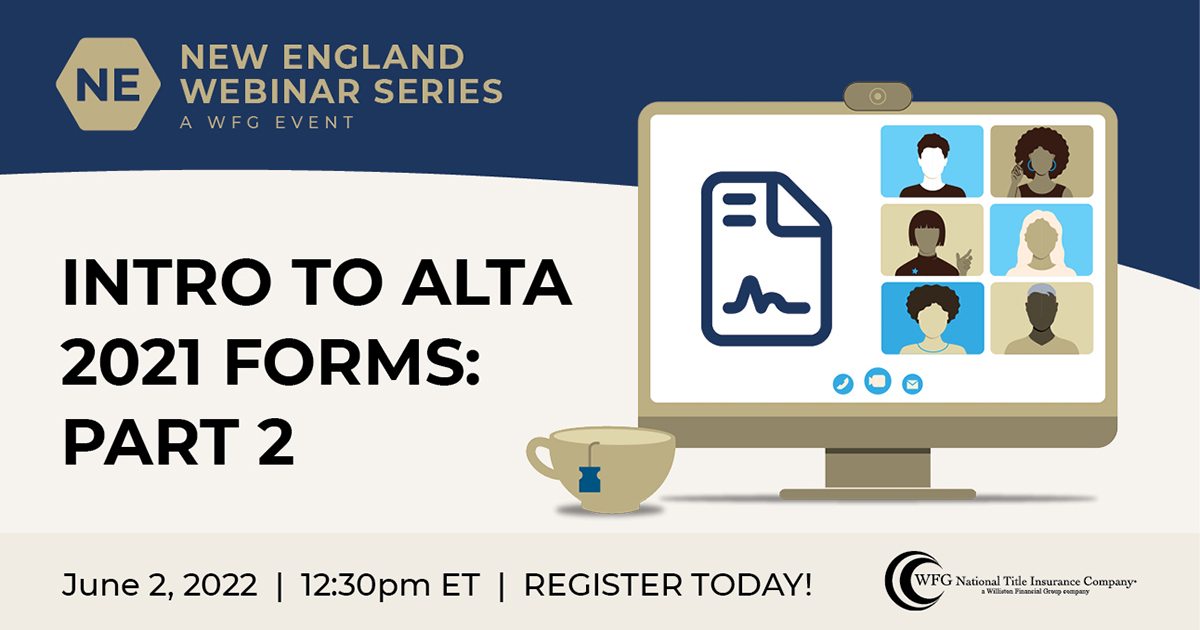 ALTA recently released new 2021 Policy Forms, including modifications to the policy, endorsements, and CPL. 
Lenders will soon be requiring the issuance of these forms if they are not already doing so.  How do the 2021 forms differ from the 2006 and 2013 versions, and how do you explain that to the insured party? Which forms do you choose within your closing platform? 
Join us on June 2, 2022, at 12:30 p.m. ET for Intro to ALTA 2021 Forms – Part 2, presented by WFG National Title Insurance Company's New England Underwriting team, Lisa Vesperman Still, New England Regional, and MA State Counsel, and Bill Peacock, New England Underwriting Counsel.
Lisa and Bill will provide an overview of the substantive changes resulting in the promulgation of the 2021 ALTA forms, including the additional coverages provided and what that means to the insured. They will also briefly discuss why the forms have been revised and the process involved with updating the forms. This webinar will assist you in answering your client's questions regarding the new loan and owner policies.
*You are welcome to join us even if you did not attend the Part 1 webinar on May 19, 2022.
By attending this class, you can expect to learn:
New covered risks;
Exclusions from coverage;
Changes to schedules;
And new definitions.