Texas CE Webinar: 2021 New Legislation That Impacts Our Business
January 11, 2022 @ 11:00 am

-

12:00 pm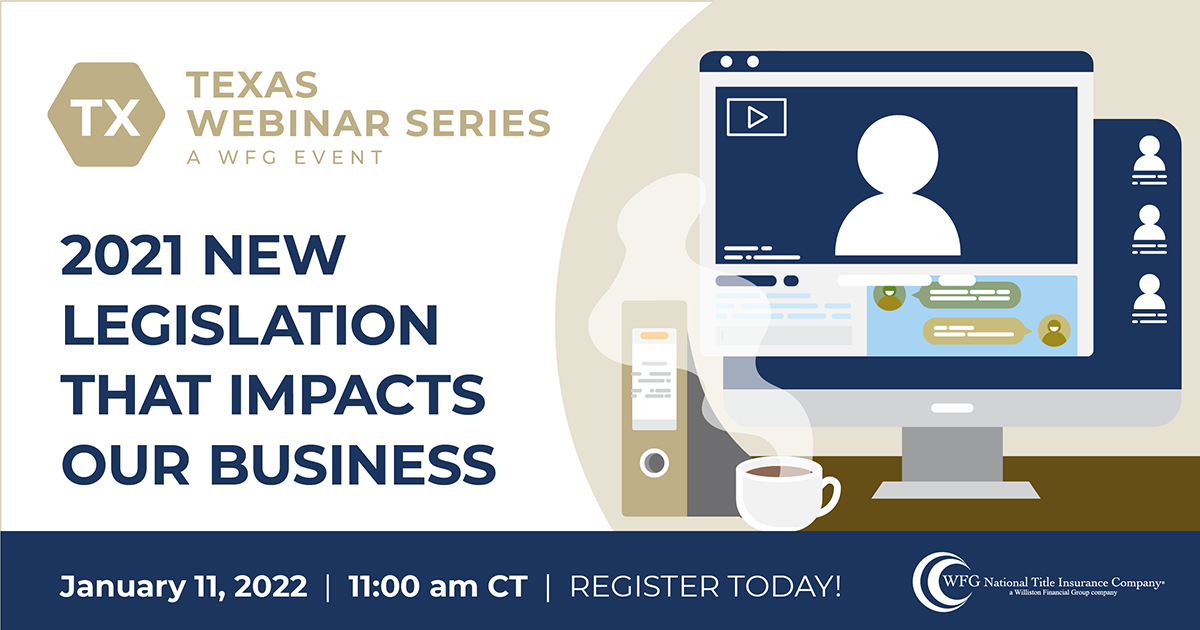 Do you need continuing education credits for Texas? If so, WFG has got you covered!
Starting in 2022, your Texas Underwriting Team will present a new TDI-approved CE course on the second Tuesday of every month, at 11:00 am CT. These carefully selected courses were designed to provide you with the tools you need to be successful!
Join us on Tuesday, January 11, 2022, at 11:00 am CT for 2021 New Legislation That Impacts Our Business presented by Leslie J. Johnson, VP, Texas State Counsel.
During this course, Leslie will cover the 2021 New Legislation in detail, what it means and how it will affect our business. 
A breakdown will also be provided of what new bills are in place and what procedures to follow. Changes made to tax laws will also be covered therefore explaining any amendments that have been made. 
By attending this course, you can also expect to learn:
Amendments made to property codes in relation to real estate transactions.
PIDs, POAs, HOAs, and Public Records amendments will be covered and how to handle the new requirements.
Various sections of the Business Organizations Code were made and effective dates. 
Amendments and additions to Texas Property codes on certain deed restrictions are in place.
New liability issues in regards to business operations as a whole not necessarily pertaining to title.
This course is approved for 1 hour of TDI credit.

Click Here to Register Now!!