Texas CE Webinar: The Rundown on Reverse Mortgages
January 10 @ 11:00 am

-

12:00 pm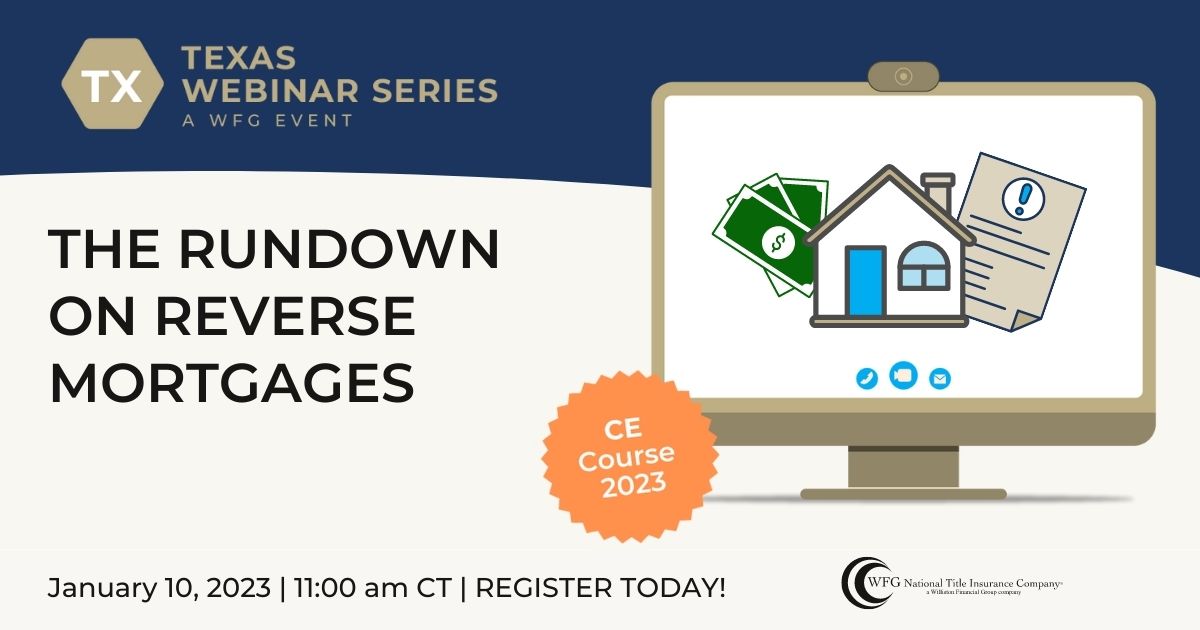 Do you need continuing education credits for Texas?
If so, WFG National Title Insurance Company has got you covered!
Through the end of 2023, your Texas Underwriting Team will present a new TDI-approved CE course on the second Tuesday of every month at 11:00 am CT. These carefully selected courses are designed to provide the tools you need to succeed!
Join us on Tuesday, January 10, 2023, at 11:00 am CT, for The Rundown on Reverse Mortgages, presented by Leslie S. Johnson, Vice President and Underwriting Counsel.
The goal of this course is to explain exactly what a reverse mortgage is and how to safely insure it. The course will cover the history of reverse mortgages in Texas, the constitutional requirements for a valid reverse mortgage, and the necessary endorsements and coverage deletions for these types of liens. The course will also discuss issues that often arise in connection with reverse mortgages and elderly customers, including powers of attorney, the lack of a valid driver's license, and the signs of elder abuse.
By attending this course, you can also expect to learn the following:
The underwriting requirements for insuring reverse mortgages and providing the T-43 endorsement coverages;
When powers of attorney can be used with a reverse mortgage;
What is a HECM and how is it different from a reverse mortgage;
Alternative acknowledgment procedures for elderly borrowers without valid driver's licenses.
Approved for 1 hour TDI credit.