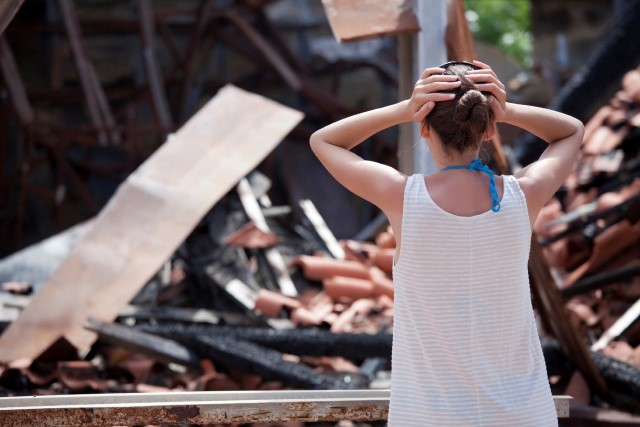 As wildfires consume thousands of homes, droughts tighten their grip on many areas, and violent storms become more frequent and more deadly, I t is getting more difficult to assume that natural disasters affect someone else. A study published in The New England Journal of Medicine found that the number of disasters tallied between 200 and 2009 was triple the number recorded between 1980 and 1989, with more than 80 percent of those disasters attributable to "climate-related events – specifically "higher temperatures, extreme precipitation, and more violent wind and water storms."
A recent report by RealtyTrac quantifies the increased risks homeowners face. This analysis of homes in more than 2,300 counties nationwide found that 43 percent of them – that's nearly 36 million homes – face high or very high risks of at least one type of natural disaster. The risks are greater in some states than in others. California, Florida and New York topped the list, with 8.4 million, 6.7 million and 2.4 million homes, respectively located in high or very high-risk counties.
The RealtyTrac report also found a correlation between disaster risks and sale prices. Over the last decade, home appreciation rates have been "steadier and larger" in low-risk areas, Daren Blomquist, vice president of RealtyTrac, notes. Sales prices in high- or very-high risk counties declined by an average of 2.5 percent and 6.4 percent, respectively between 2005 and 2015, compared with gains of 6.6 percent and 9.5 percent in low- and very-low risk areas.
However, in the past three years, appreciation rates have been stronger in higher risk counties – a seemingly counter-intuitive result that Blomquist attributes to the inherently higher volatility in markets that are better known and "sexier," and so likely to attract "more speculative buyers and investors who will jump on the buying bandwagon when the market hits bottom."