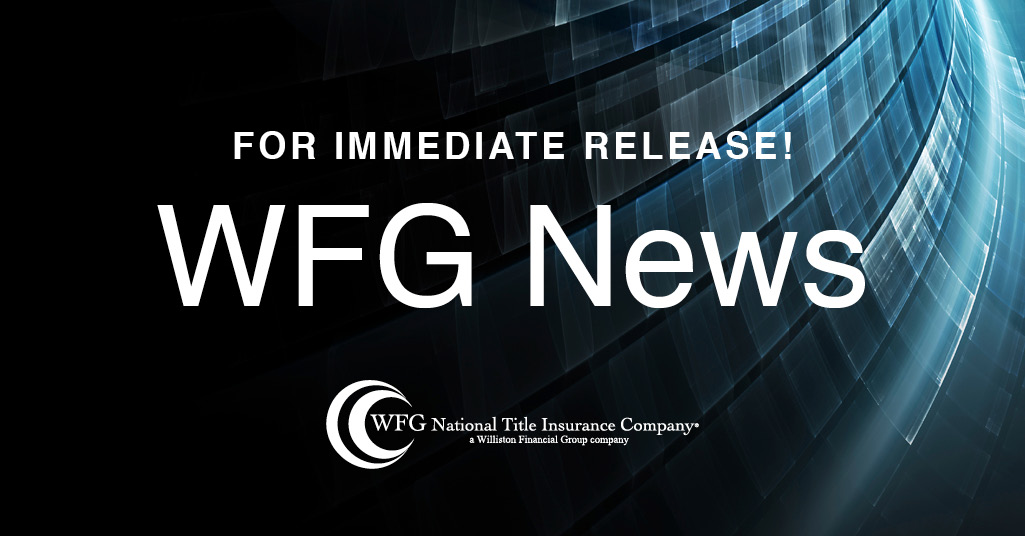 By leveraging enterprise-scale buying power, the company connects independent title agents with cost-effective, quality health insurance coverage
Portland, Ore., October 6, 2021 – WFG National Title Insurance Company (WFG), a Portland-based, full-service provider of title insurance and real estate settlement services for commercial and residential transactions nationwide, has renewed its popular health insurance program, providing access to cost-effective health insurance as a benefit within the company's WFG Blocks program.
As it has done for products and services within the other five WFG Blocks – Marketing and Sales, Compliance solutions, Title and Settlement solutions, Information Security, and Expense Management – WFG has contracted with a health insurance provider to offer tremendous cost savings for plan participants through the Human Resources block.
"Everybody knows health care is prohibitively expensive," said Gene Rebadow, Executive Vice President, Agency Operations for WFG National Title Insurance Company. "Youity provides a very competitive package that gives WFG's title agents excellent coverage they would not be able to get on their own."
The proprietary program, available in 50 states for individuals or groups, is exclusively available through Youity. There are no set-up fees, administrative costs, or contracts to sign, and policies are billed individually, which means a departing agent's premiums do not become the responsibility of the group organizing the policies. There is also no deductible. Instead, there is 'first-dollar coverage,' so medical costs are paid from the first dollar incurred.
"The program is designed to be both economical and easy to administer," said Brian Bushlach, an insurance and real estate broker who designed and now oversees these programs after deciding the biggest obstacle to his own business growth was securing cost-effective health insurance coverage.
"That has long been a major hurdle for smaller title agencies and real estate groups trying to organize effective health care coverage," said Bushlach, who believes this program will work for 70-80 percent of the market, nearly a third of whom "do not have any coverage either because it isn't offered by their businesses or it is unaffordable."
"Perhaps the biggest challenge in developing cost-effective pricing for agents is the payment piece," he continued. "Through our nationwide network, providers know they are paid within 30 days and that helps reduce service costs."
The program offers four plans to choose from, with the basic individual plan available for about $100 per month. Additional level plans are available for families of various sizes, with premiums starting at $240 per month, and up to $770 per month for the highest-level plan with the most benefits. This provides a savings of up to 50 percent when compared with a traditional, major medical plan.
"We even have dental, vision and life insurance available," Bushlach said.
"This is also a tremendous marketing tool for the independent title agent who wants to expand their business," Rebadow said. "While we can't offer access to real estate agents, Youity offers separate, similar plans for real estate brokerages."
"Our goal with WFG Blocks, is to provide title agents and real estate professionals access to our corporate services so that they can take advantage of the aggregate skills and cost effectiveness of a larger platform," said Patrick F. Stone, Executive Chairman and Founder of Williston Financial Group, the parent company of WFG National Title Insurance Company.
The WFG Blocks program is designed to enable title agents and real estate professionals to turn fixed costs into variable costs, so that their expenses are directly in proportion to their business activity and immediate needs. These services are not branded and can be utilized by the title agent and real estate professionals on an as needed basis and as if they are directly owned.
"This is a win-win for the agent or real estate professional, as well as WFG, as the more these services are used, the less the incremental cost for all involved. We want our clients to be as successful as possible, and by utilizing these services both they, and WFG, can take advantage of the economies of scale," Stone concluded.
WFG's independent title agencies can contact their Agency Representative for more information, or visit https://wfgblocks.com/hr.
For more information on the WFG Blocks program, visit https://wfgblocks.com/ and download our new white paper.
About WFG National Title Insurance Company
Portland, Oregon-based WFG National Title Insurance Company (WFG), a Williston Financial Group company, is a new breed of national real estate service providers and title insurance companies powered by innovation and collaboration. Founded in 2010, WFG has become the 6th truly national title underwriter and accomplished that faster than any other underwriter in history by creating and delivering a comprehensive suite of real estate-related services and technology. In all that it does, WFG strives to improve the real estate transaction, while increasing transparency and empowerment to the title agent, lender, realty professional and consumer.
WFG enjoys a Financial Stability Rating of A' (A prime) as assigned by Demotech, Inc. Built around the directive to "communicate, collaborate, coexist," WFG has worked to introduce a superior level of client commitment and service to the traditional mortgage and real estate industry, working to meet the changing needs of its clients, agents and associates. For more information, please go to www.WFGNationalTitle.com.
MEDIA CONTACT:
Darcy Patch
VP Marketing, Enterprise Solutions
dpatch@poweredbywest.com
714-305-0136