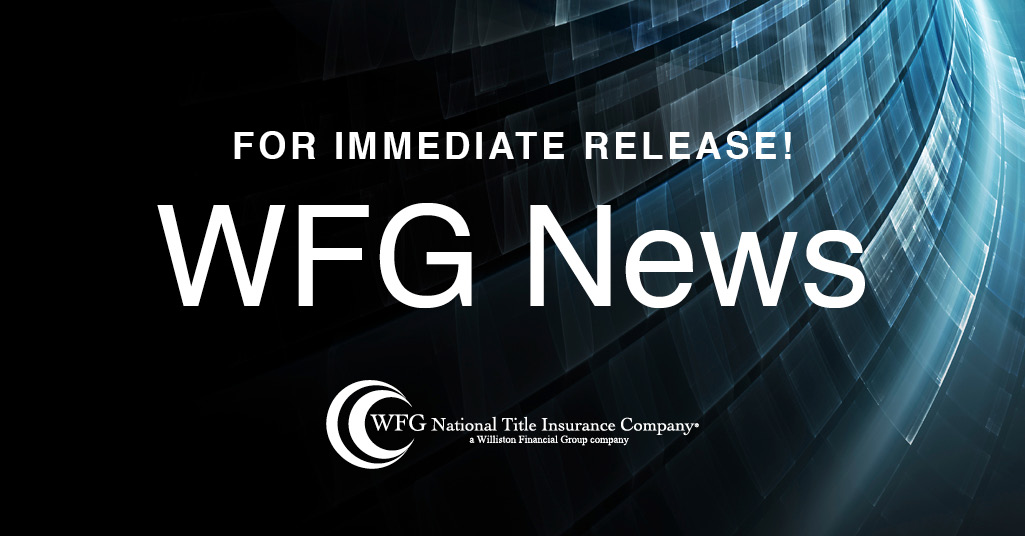 WFG NTIC's expansion extends the company's agency footprint to include Colorado, Utah, Montana and Wyoming
Portland, OR, June 14, 2022 – WFG National Title Insurance Company, a division of Portland-based Williston Financial Group (WFG), and a full-service provider of title insurance and real estate settlement services for commercial and residential transactions nationwide, has expanded its agency footprint to include four additional western states — Colorado, Utah, Montana and Wyoming – with the formation of the company's new Rocky Mountain Region.
Vice President, Rocky Mountain Area Manager Brian Phillips will head operations for the new region and share responsibility for growing the new region's title agent base with Agency Sales Representative Kristen Jorgensen. Randy Williams will serve as Underwriting Counsel for the new region.
"We are thrilled to have Brian and Kristen heading our expansion into the Rocky Mountain Region," said Suzanne Tinsley, SVP Southwest and Western Regional Manager. "Brian has a long and established history of supporting agents in this region, and he knows what they need most to succeed in today's market. His wealth of title experience, industry knowledge, and relationships are exactly what we need to build this region into what WFG agents have come to expect and value.
"Kristen is exceptional as well, consistently going above and beyond for her agents. In today's volatile market, they know she is there advocating for them, serving as a valuable resource, making her almost a part of her customer's team," Tinsley concluded.
"Simply being a business partner with material resources won't cut it these days. Agents deserve more, and the Rocky Mountain expansion embodies that sentiment," said WFG NTIC EVP, Agency Operations Baron Buss. "The team is local and tremendously experienced. The real winners will be our current and future Agents in the region. We were good before, and we just leveled up."
A 12-year veteran of the title industry, Phillips began his career litigating real estate and title insurance matters, and later moved on to serve as underwriting counsel before transitioning into the sales and agent support side of the business. Phillips says he learned his most valuable lessons from owning a title company and experiencing firsthand the challenges and opportunities that independent title agents face on a daily basis. Today, he uses his experience to support the needs of his clients, helping independent title agents find solutions to improve their business and get the most value out of their underwriter relationships. In his free time, Brian enjoys spending time in the mountains skiing, hiking, and biking with his family.
Phillips said, "I believe every problem has a solution and I sincerely appreciate and enjoy working for a company like WFG that shares my solutions-oriented philosophy and prioritizes providing programs and services that empower independent agents to achieve maximum success. I am very enthusiastic to bring all of this to WFG's new Rocky Mountain region."
With more than a decade of experience in virtually every facet of the title industry, Kristen Jorgensen leverages her extensive knowledge to support independent title agents, serving as a hands-on extension of their own teams and helping them grow and succeed in their daily operations. Her philosophy aligns perfectly with that of WFG as well and, in keeping with the company's promise that "everything we do is because of you," she believes that her authentic relationships build trust, and trust builds meaningful partnerships with her agents.
"I am thrilled to join WFG and to offer agents the many tools available through the company's Blocks program, as these incredible resources are truly unmatched by any other underwriter in the industry," Jorgensen said.
During the last year, Jorgensen has served on the Executive Committee for the Utah Land Title Association as the Underwriter Section Chair. She lives in Utah with her husband Zach and French bulldog Gus. She loves travel, time with friends and family, sunshine, good food, reading, exercise and Steelers football.
For more information about WFG NTIC's Rocky Mountain Agency Team, visit https://wfgtitle.com/agency or call 877-366-8781.
About Williston Financial Group
Williston Financial Group is the Portland, Oregon-based parent company of several national title insurance and settlement services providers, including WFG Lender Services and WFG National Title Insurance Company.  It is one of the fastest growing national title insurance and settlement services providers in the mortgage and real estate services industry.
MEDIA CONTACT
Darcy Patch
VP Marketing, Enterprise Solutions
WEST, a Williston Financial Group company
dpatch@poweredbywest.com
714-305-0136