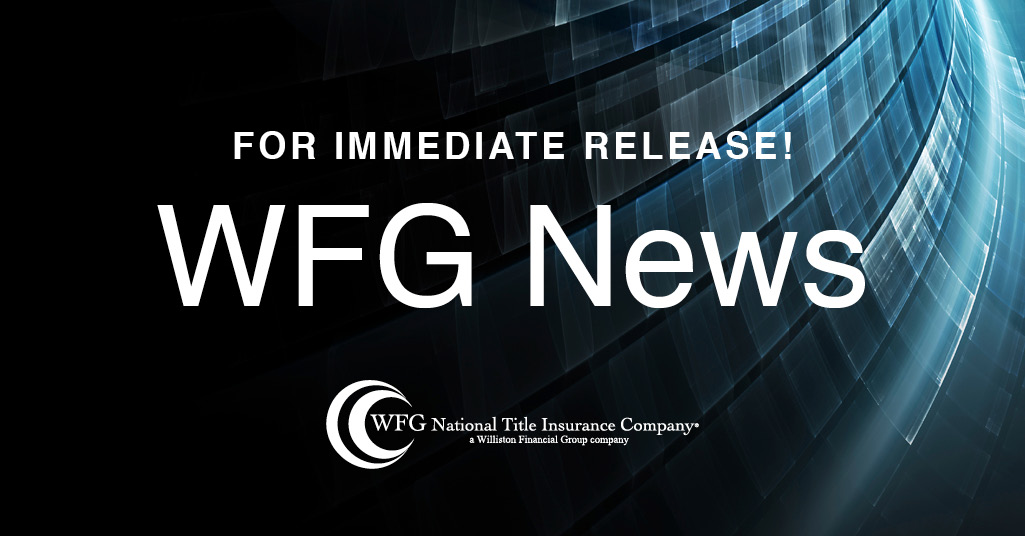 New report explores how WFG's unique modular business solutions enable agents to reduce costs, enhance efficiency and grow their business
Portland, OR, September 29, 2021 –WFG National Title Insurance Company (WFG), a Portland-based, full-service provider of title insurance and real estate settlement services for commercial and residential transactions nationwide, has published a new whitepaper that explores the title agent-underwriter relationship in great detail. The paper, "Creating a True Partnership Between Title Agencies and Underwriters," is available as a free download on the WFG Blocks website.
"A number of states have recently enacted rating structures that will directly impact the title insurance industry and its pricing structure," said WFG Executive Chairman and Founder Patrick F. Stone. "If legislative changes trigger actions by federal and state regulators to drive down premiums, those independent title agents who have not established cooperative, "optimal" working relationships with underwriters will be at a disadvantage."
Nearly 1,600 title agents currently work with WFG and many of them count on their underwriter for certain necessary functions through WFG's special program.
WFG refers to it as "Blocks," a name that underscores the modular structure of the program. These "Building Blocks for Business" support WFG's agent network with a set of turnkey back-office processes available for title companies to use to build out their own businesses more efficiently.
"These are services that do not necessarily have a market identity, and that can be used successfully without in any way compromising a title agent's established position in their market," Stone explains. "Through this program we have given title agents access to WFG's national corporate services to use as an integral part of their own businesses. They plug directly into their operations, individually or in combination, based on their needs."
The new whitepaper goes into detail on the following Blocks, which are all available to title agents today:
Title & Settlement Solutions
Expense Management
Information Security
HR Management
Compliance Solutions
Marketing & Sales
"We believe the rapid growth of our title agent network is largely attributable to the popularity of our unique agency model, which leverages WFG's national coverage and local expertise to provide cost-effective solutions and operational efficiencies through our WFG Blocks program, which enables agents to convert fixed costs to variable ones," said WFG Executive Vice President, Agency Operations, Gene Rebadow.
As a result, WFG's overall market share continues to increase, too. Year-over-year between Q1 2020 to Q1 2021, it rose by 14.5 percent and is expected to continue to grow through the balance of the year.
"Last year was a banner year for us and we are excited to report with confidence that WFG is well on the way to surpassing those historic 2020 revenue figures in 2021," said WFG CEO and President Steve Ozonian.
Most importantly, WFG continues to receive consistent Net Promoter Score (NPS) ratings from customers, in the high 70s or above – a "world-class" service rating across all industries.
"We adopted NPS some years ago," Stone said, "and we are proud to maintain such positive feedback. It has helped WFG measure performance and improve service levels. This, combined with the drive of dedicated teams throughout the WFG organization, has us well-poised for success as we embark upon our second decade."
About Williston Financial Group
Williston Financial Group (Portland, Oregon) is the parent company of WFG National Title Insurance Company, WFG Lender Services, WFG Default Services, Valutrust Solutions, LLC, WEST and other title, settlement and technology solutions providers. It is one of the fastest growing national title insurance and settlement services providers in the mortgage and real estate services industry.
About WFG National Title Insurance Company
Portland, Oregon-based WFG National Title Insurance Company (WFG), a Williston Financial Group company, is a new breed of national real estate service providers and title insurance companies powered by innovation and collaboration. Founded in 2010, WFG has become the 6th truly national title underwriter and accomplished that faster than any other underwriter in history by creating and delivering a comprehensive suite of real estate-related services and technology. In all that it does, WFG strives to improve the real estate transaction, while increasing transparency and empowerment to the title agent, lender, realty professional and consumer.
WFG enjoys a Financial Stability Rating of A' (A prime) as assigned by Demotech, Inc. Built around the directive to "communicate, collaborate, coexist," WFG has worked to introduce a superior level of client commitment and service to the traditional mortgage and real estate industry, working to meet the changing needs of its clients, agents and associates. For more information, please go to www.WFGNationalTitle.com.
MEDIA CONTACT:
Darcy Patch
VP Marketing, Enterprise Solutions
dpatch@poweredbywest.com
714-305-0136