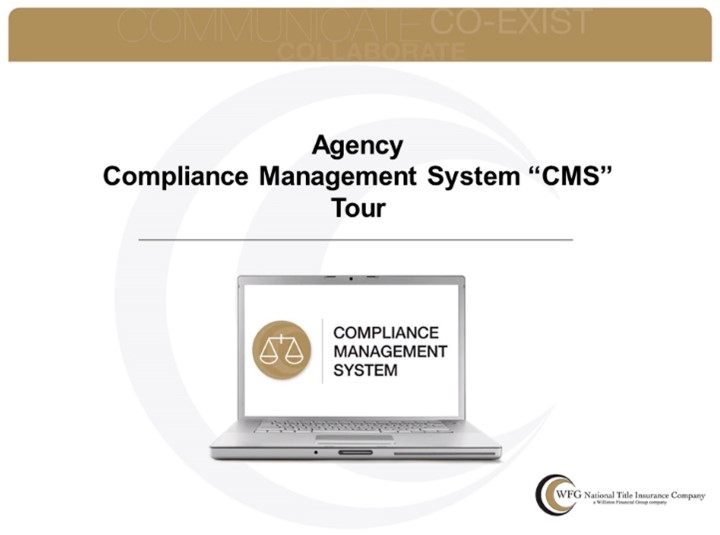 WFG's on-line compliance Management System (CMS) has been in place for about a year, and title agents who have used it have found it to be "comprehensive," "well-organized" and "extremely helpful."
That feedback certainly pleases Kelley Shellhaas, WFG Assistant Midwest Underwriting Counsel, who oversaw development of the CMS web site. But nothing pleases her more than to hear agents describe the CMS as "user-friendly."
"That was one of our primary goals," she says. "The compliance process itself can be intimidating. We wanted the CMS to be the opposite – accessible and comfortable for agents and easy for them to use.
With a continuing eye on the 'user-friendly' feature, Shellhaas has posted a 12-minute narrated video tour on the WFGAgent web site, providing detailed, step-by-step instructions on how agents can use the CMS to create a comprehensive and personalized compliance program for their agency.
Shellhaas says the video is designed for "visual learners – and I am one – who need to see how the program works in order to understand how to use it."
The video is short and intentionally so, she adds. "It conveys the message: 'If I can walk through this program in 12 minutes, it must be easy to use. This removes some of the intimidation factor."
Most of the people charged with developing a compliance program for their agency have little, if any, compliance experience, Shellhaas notes, and some aren't particularly computer-savvy. But most find that it doesn't take much time or much explanation for the least savvy among them to go from being completely overwhelmed by the project to completing it, usually far more quickly than they expect.
"They discover that they're not being asked to change their operations; they're only being asked to describe what their agency is already doing to comply with consumer protection rules. The CMS helps them compile, organize and document that information," Shellhaas explains. "It provides a touchstone that can keep them focused and give them confidence as they go through the process," she adds.
She advises agents responsible for producing the CMS for their agency to begin by printing out and reviewing the CMS user's guide available on the CMS web site. Watch the video tour after that, she says, "and then you're ready to begin."
Agents who need additional information or assistance can get both by contacting Agency Support.