Webinar: 4th Quarter Economic Outlook
December 5 @ 2:00 pm

-

3:00 pm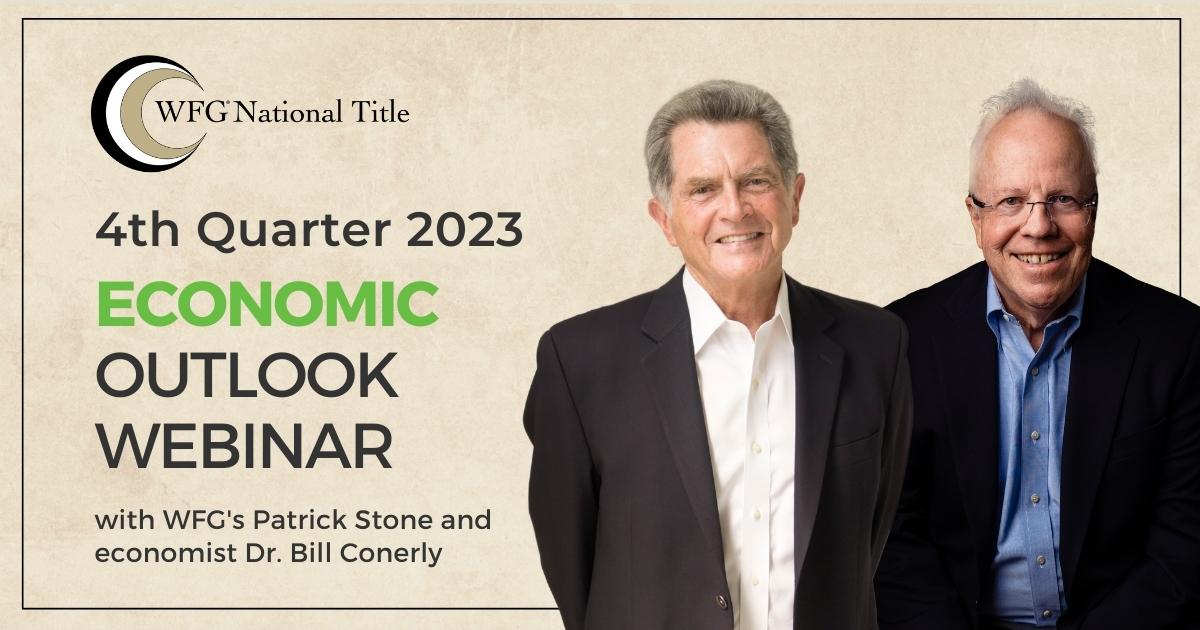 Are you feeling anxious about the current state of the real estate market and economy? What if you could gain valuable insight that would enable you to stay a step ahead and help ensure your business's continued success? Now you can!
Join WFG National Title Insurance Company Chairman and Founder Patrick F. Stone and renowned Economist Bill Conerly, Ph.D., for WFG's highly anticipated 4th Quarter Economic Outlook webinar. This exclusive live event will take place on Tuesday, December 5, 2023, at 11 AM PT / Noon MT / 2 PM ET and promises to be an eye-opening session filled with valuable insights and expert analysis.
During the webinar, Patrick and Bill will share their deep insights on the current state of the economy and its direct impact on the housing market. They will also delve into the latest economic data, identify trends, and offer strategic predictions for the upcoming quarter and beyond.
Here are just some of the topics that will be addressed during the webinar:
What factors influence the real estate market's trajectory and strategies to navigate the path to recovery?
Home prices vs. affordability: the dynamics affecting home affordability and trends that could impact your business and clients.
Is there enough new home construction to help alleviate the imbalance of the housing crisis?
But that's not all. We want to hear from YOU!
 
The Q4 Economic Outlook is your opportunity to pose questions and get informed answers from Patrick and Bill. Submit your questions during registration or via email by November 29, 2023, and our presenters will address them during the webinar's live question and answer portion.
Stay informed. Stay ahead.   Join us on December 5th!