**Webinar Rescheduled** Gone Fishing: Attracting, Catching and Keeping Big Fish Clients
March 22, 2021 @ 12:00 pm

-

12:30 pm

Free Webinar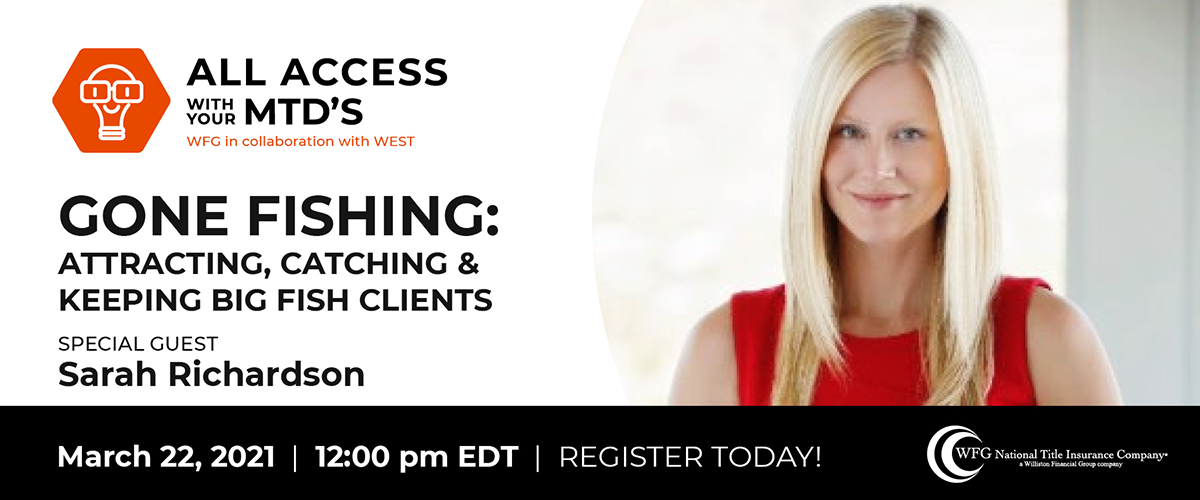 In this all-access interview, we have an opportunity to pick the brain of one of Arizona's largest and most prolific luxury real estate brokerages, Tru Realty. Sarah Richardson, the CEO of Tru Realty, lets us pull back the curtain on what works and what doesn't when trying to build fruitful, lasting relationships with the top brokerages and real estate agents in your market!
On March 22, 2021, at 12:00 pm EDT, join WFG in collaboration with your *WEST MTD (Marketing Technology Director), Sam Trimble, for an exciting discussion with Sarah C. Richardson, as they explore Gone Fishing: Attracting, Catching and Keeping Big Fish Clients. 
During this interview, you will learn:
What keeps your top prospects up at night, and how you can help.
How to get an appointment with a top real estate agent/broker.
What top real estate agents/brokers actually want from YOU!
*WEST, a Williston Financial Group company
Click the link below to register!