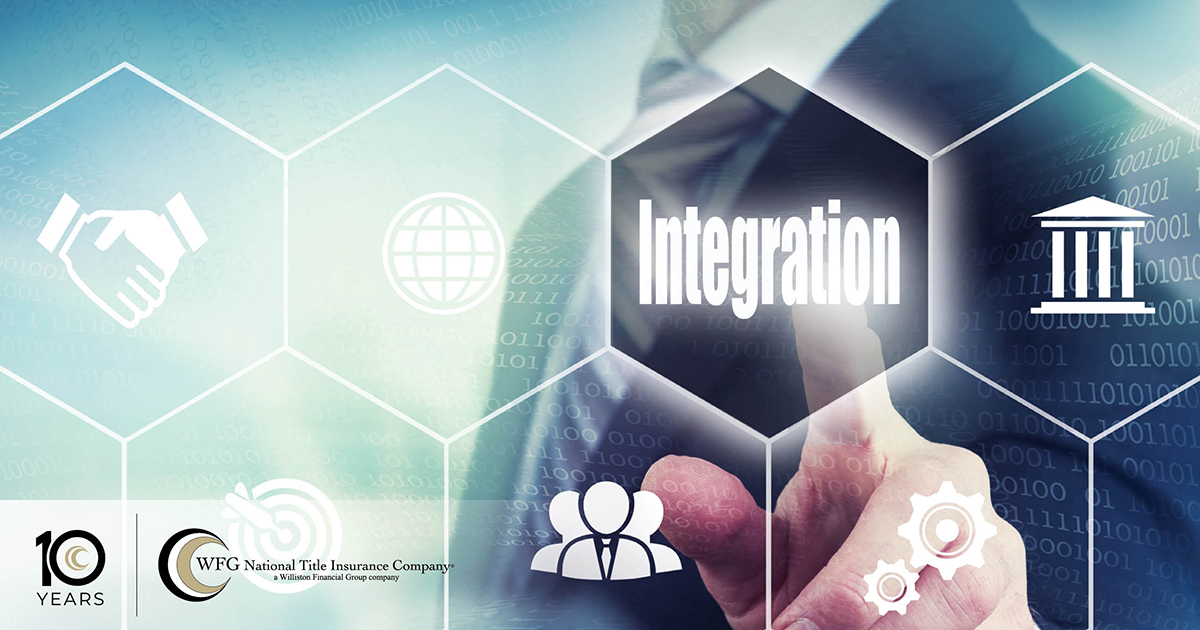 Portland, Ore., May 27, 2020 – WFG National Title Insurance Company (WFG), a Portland-based, full-service provider of title insurance and real estate settlement services for commercial and residential transactions nationwide, has announced a collaboration with TrackerPro, the industry leader for title insurance software.
Beginning May 15, 2020, through seamless integration with the WFG National Title Insurance Company platform, TrackerPro will now enable its users to request and receive policy jackets and policy numbers, agent authorization letters in New York, and Closing Protection Letters (CPLs) outside New York directly through TrackerPro without the need to work across multiple systems and re-key data.
"WFG is extremely pleased to integrate with Tracker Pro, a software provider we strongly support," said WFG NTIC's Julie Curlen. "Knowing their place in the New York market, integrating with them reminds me of when Bruce met Clarence Clemons on the boardwalk in Asbury Park. This is just another step to making it easier for our agents to do business with WFG."
With just one click, TrackerPro's optional feature enables users to receive documents from WFG by delivering behind-the-scenes validated information stored in TrackerPro, saving substantial time and money by minimizing manual data entry and validation steps and automating document processing in title policies.
"Our alliance with WFG enables our mutual clients to vastly improve their service, quality and efficiency through automation and simplification of the policy production process" said Chuck McGrath, TrackerPro's founder. "Together our company synergy will improve the user experience and ultimately the bottom line."
For more information on the new feature, or to learn how to begin using it, call TrackerPro at 631-393-6999 or email info@trackerprollc.com. Demonstrations can be scheduled online at http://www.trackerprollc.com/free-demo
About TrackerPro
TrackerPro provides the most comprehensive paperless office solution available for the title insurance industry and supports the largest and most complex title insurance agencies. TrackerPro was designed from the ground up and adheres to the Best Practices as mandated by the American Land Title Association (ALTA). Organizations leverage TrackerPro solutions to transform and automate the way they manage their business. Learn more about TrackerPro by visiting our website at www.trackerprollc.com.
About WFG National Title Insurance Company
Portland, Oregon-based WFG National Title Insurance Company (WFG), a Williston Financial Group company, is a new breed of national real estate service providers and title insurance companies powered by innovation and collaboration. Founded in 2010, WFG has become the 6th truly national title underwriter and accomplished that faster than any other underwriter in history by creating and delivering a comprehensive suite of real estate-related services and technology.  In all that it does, WFG strives to improve the real estate transaction, while increasing transparency and empowerment to the title agent, lender, realty professional and consumer.
WFG enjoys a Financial Stability Rating of A' (A prime) as assigned by Demotech, Inc.  Built around the directive to "communicate, collaborate, coexist," WFG has worked to introduce a superior level of client commitment and service to the traditional mortgage and real estate industry, working to meet the changing needs of its clients, agents and associates.  For more information, please go to www.WFGNationalTitle.com.
Media Contact:
Darcy Patch
VP Marketing, Enterprise Solutions
WEST, a Williston Financial Group company
dpatch@poweredbywest.com
714-305-0136